Our members are the greatest!
Give us a call for more information about joining our chamber.  You can apply for a membership using our
Please feel free to contact us regarding any of the local businesses listed on this page!
Current Members
Auto Value
A Bark Above – Pet Grooming
Air Evac EMS. Inc.
American Legion Post 69
Babcock Motors
Baker, Leah Jane
Barbed Bling
Busick Insurance Agency, LLC
Butterfield Chiropractic P. C.
Carroll, Jim
Carsmart Auto Group
Coleman Sawmill Supply
Copy Trolley
Daugherty's Services, Inc.
Dogwood Treasures
Duke Energy Indiana, Inc.
Edward Jones (Gretchen Anderson)
Engleking RX
Elliott, Construction
Elrod's Carpet Cleaning
Fashionette Beauty Shop
Fifth Third Bank
Fletcher Heating & Cooling
Flower Cottage
Forward Telehealth & Counseling
Free Style Salon
French Lick Resort – Casino
Gallion's Supermarket, Inc.
Genesis Painting
Granite Inliner
HD Graphix
Hoosier Express Auto Wash
Hoosier Hills Credit Union
Hoosier Office Products
Hoosier Times, Inc.
Hoosier Uplands
Hosparus Health
Hudelson Machine & Sharpening
IN-FAB, INC
Indiana Natural Gas Corporation
Infrastructure Systems, Inc. (ISI)
I. U. Health – Paoli
J & S Sportswear
James Wolfe Contracting, Inc.
Jasper Group
KAPPA KAPPA KAPPA, Inc.
Kirby Hardware
Kirk Veterinary Service, Inc.
Kiwanis Club of Orleans, Inc.
Lantis Insurance Services
Lawnmoore
Lillies
Maple Leaf Farm
Mark Springer Insurance Corp.
Mary Lea Brown, CPA
Mid-Southern Savings Bank
Mitchell Manor
Ochs-Tetrick Funeral Home
Older Americans Services Corporation
Orange County Community Foundation, Inc.
Orange County Concrete, Inc.
Orange County CVB
Orange County Habitat for Humanity
Orange County Homegrown
Orange County REMC
Orleans Antiques
Orleans Community Schools
Orleans Family Health
Orleans Flower Shop
Orleans Medical Clinic
Orleans Post Office
Orleans Public Library
Orleans Sunoco
Pallet Store
PHI BETA PSI
Reynold's Construction
Riley's Marathon
River View Farms, Inc.
Robinson Auctions & Gatherings
Scott Daugherty Trucking
Sprigler, Farms
Strategic Services, LLC
Suddarth & Co. Real Estate
Super Clean Car Wash
Taylor Spraying Service
Tegarden, William H.
Tetrick, Lewis
The Hair Dugout
The Phoenix Project
The Progress Examiner
Town of Orleans
Trademark Utility Systems, LLC
Wheat's Service & Collision
White Castle Systems, Inc.
Wilkinson Electric
Work One Orange Express
Wright Implement / Deere Country
WUME Mix 95
---
Board of Directors
Executive Committee
President                                        Randy Clark, Helix Technologies
Immediate Past President         Matt Deaton, Orange Co. REMC
Vice President                               David Miller, Orleans Antiques
Secretary                                        Vicki Gross, The Progress Examiner
Treasurer                                       Wendy Sprigler, Sprigler Farm Mkt. & Deli
Debbie Stone                     Orleans Library
Dr. Kelly Kirk                      Kirk Veterinary Service
Patton Busick                    Busick Insurance
Gary McClintic                 Orleans Community Schools
Marcy Bennett                  Orange Co. REMC
Lynnda Johnson               Mid-Southern Savings
Abi Harden                          A Bark Above
Robert F. Henderson    Executive Director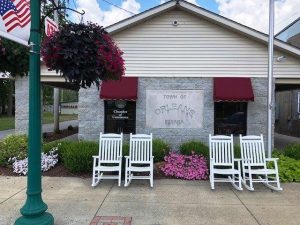 ---